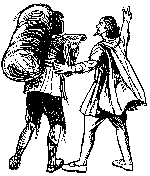 Story Behind the "Wicket Gate"
On the first of June 1648, a bitter battle was fought in the town of Maidstone, in Kent, between the Parliamentary forces of the English Government and the Royalists. It took only one night for the Royalist insurrection to be stamped out, but it was a night of much bloodshed and cruelty. Among the prisoners that were taken was a Royalist Major named John Gifford. He was sentenced to be hanged, but on the night before his execution his sister engineered his escape. After some time in hiding in various places, John Gifford at last made his way to the town of Bedford.

Before he had joined the army he had studied medicine, and once he saw that things had eased off a little, he began to practise his old career. Gifford's life in Bedford soon became a public scandal. He hated and persecuted the Christians of that place, reducing himself, in the meantime, through begging, drink and gambling, to the point of suicide.

But let us leave John Gifford at this point; for here we see another man entering the town of Bedford - another "John". This man's name is John Bunyan, the man who is destined to write the world's most famous book, next to the Bible - "The Pilgrim's Progress". At this particular time, however Bunyan is not much better than the dissolute John Gifford, although God does seem to be working in his heart.

Just listen to how he records this day in his "Grace Abounding to the Chief of Sinners" - the story of his life. "Upon a certain day", he says, "the good providence of God did cast me to Bedford to work in my calling; and in one of the streets of that town I came where there were three or four poor women sitting at the door in the sun and talking about the things of God. But I may say I heard, but I understood not, for they were far above and out of my reach ... About this time I began to break my mind to those poor people in Bedford, and to tell them of my condition, which, when they had heard, they told MR GIFFORD of me ...... At that time also I sat under the ministry of HOLY MR GIFFORD, whose doctrine, by the grace of God, was much for my stability".

A different Mr Gifford from the dissolute Royalist Major? No, the same man, now saved by the grace of God, and ministering of the church at Bedford - the "Evangelist", in fact, in Mr Bunyan's Pilgrim's Progress. Bunyan himself is the man in rags with the burden upon his back; John Gifford is the "Evangelist" who points him to "yonder wicket gate".


"God moves in a mysterious way,
His wonders to perform:"